This Week @ MacsWest

Teaching, Helping, Learning and Having Fun!
• Monday, April 14
Nothing Scheduled

• Tuesday, April 15
1:00 PM – Q & A Session, hosted by Bruce Merrihew, until 2:00 PM, Palo Verde Room
2:15 PM – iPad Basics Session #2 – Mail, led by Mary Kocha, until 3:00 PM, Palo Verde Room

(This is a walk-in session, open to members of MacsWest only)



• Wednesday, April 16


Nothing Scheduled
• Thursday, April 17


Nothing Scheduled

• Friday, April 18


No Meeting Today – Good Friday



• Saturday, April 19


Nothing Scheduled
Apple updates iWork for Mac, iOS, and iCloud
Apple updated its iWork suite on all three platforms (iOS, Mac, and iCloud) yesterday, with improvements to almost every aspect of every app, from editing in Pages to creating charts in Numbers and delivering presentations in Keynote.
All three apps will purportedly be more compatible with Microsoft Office (which, coincidentally, finally appeared on the iPad last week). On the Mac, the three iWork apps now aim to do a better job of exporting to Office's XML formats. The iCloud versions of the three apps can now open password-protected documents, spreadsheets, and presentations from Word, Excel, and PowerPoint. And the Mac and iOS apps claim to preserve custom number formats in charts imported from their Office counterparts.
The new versions are also designed to make sharing documents easier. For example, there's a new "view-only" option that you can use when you share documents but don't want viewers to edit anything. The iOS and Mac versions of the Pages, Numbers, and Keynote can share password-protected documents via an iCloud link. The iCloud versions of the three apps can show you a list of the documents that other users have shared with you in the document manager; they also let you add passwords to documents you create online.
The iCloud apps add some other new collaboration tools, too. You can view a list of the collaborators who are currently in a given document. You can also see the cursors and selections of everyone who's working on a document. To go to wherever a given collaborator is currently editing a document, you can click on his or her name in the collaborator list. And if they move an image and shape, those movements are animated.
The iCloud apps also get support for Retina displays, and you can now use folders to organize online documents in those versions of Pages and Numbers. On the Mac, there's improved support for AppleScript. Keynote for both Mac and iOS get a bunch of new build animations and new transitions.
There's plenty more, all of it detailed on the product pages for Pages, Numbers, and Keynote. And, if you're counting, the new Mac versions are Pages 6.2, Numbers 3.2, Keynote 6.2; on iOS, it's version 2.2 of all three.
At long last, Microsoft brings Office to the iPad
It's taken a while but the moment has finally arrived for iPad users who are also fans of Microsoft'sworld-class productivity software. Microsoft on Thursday announced that it is bringing a touch-centric versions of key Office suite apps — including Word, Excel and PowerPoint — to the iPad for the first time, roughly nine months after Microsoft unveiled Office for the iPhone. Microsoft says that bringing Office to Apple's tablet is a way to "empower people to be productive" and to "do more across all devices."
Office will officially go live on Apple's App Store at 2 p.m. ET, 11 a.m. PT. Microsoft says that the Office for iPad apps will have a "freemium" model — any iPad users can download them for free and use them to view and present their Office data but they'll have to subscribe to Microsoft Office 365 if they want to edit documents on the iPad Office apps.
Bringing Office to the iPad is the first major product announcement made by Microsoft ever since it appointed Satya Nadella to become its next CEO and it's an important move that will help keep Office as the world's No. 1 productivity software suite as more business users adopt the iPad and Android-based tablets.
Apple, GN ReSound create world's first made-for-iPhone hearing aid
Here's sweet music for your ears.
A new hearing aid from Danish company GN ReSound will be the coolest accessory ever, thanks to a partnership with tech giant Apple. The innovative LiNX hearing aid
syncs with iPhones, iPads and iPod Touch, and it's compatible with Apple's iOS7. Meaning not only can it help you hear better, it can let you listen to music, sync movies, receive phone calls and even chat over Facetime.
Imagine Siri, whispering sweet nothings directly into your ear.
The two companies have been working on the Bluetooth link that makes it possible for more than two years, Kim Herman, president of ReSound U.S., told Fox Business.
"We were the first hearing aid manufacturer to work on a 2.4GHz connectivity platform in 2010. We are now on our third generation of this platform, which provided us with a unique background to create the world's first Made for iPhone hearing aids," Herman wrote in an email.
The hearing aid has been designed to be comfortable to wear and simple to operate, he says. So simple that once you download the company's Smart App, you're all set to go. The app controls the hearing aid's volume, settings and other acoustical adjustments while also allowing users to check their battery status. It can geo-tag locations as well, and there's even a "find my hearing aid" feature just like that "find my phone" function.
Since appearing at the 2014 Consumer Electronic Show (CES), Herman says that the company has received overwhelming support from audiologists and consumers young and old.
"When people realize how much benefit ReSound LiNX can provide, and how seamless their experience is, it changes how they think about hearing aids. ReSound LiNX is appropriate for 90 percent of hearing losses, whether or not the wearer owns an iPhone or iPad," she said.
Depending on the patient's level of hearing, the price for ReSound LiNX can range between $2,400 and $3,500. They are available only through licensed hearing care professionals, who program each unit specifically for the patient based on their unique hearing loss, ear anatomy and lifestyle.
Apple introduces cheaper iPhone 5C
Sales of the colorful, plastic iPhone 5C have been below the company's expectations, and CEO Tim Cook acknowledged in January that Apple (AAPL, Fortune 500) misjudged demand for it. As a result, Apple unveiled an 8 GB version of the iPhone 5C on Tuesday in an attempt to boost consumer interest.
The 8 GB edition will only be available in the United Kingdom, France, Germany, Australia and China, Apple told CNNMoney.
In England, the 8 GB version was selling for £429, ($711), slightly cheaper than the 16 GB version, which sells for £469, or $778. Customers in England are unable to purchase a subsidized iPhone from Apple.
The 16 GB iPhone 5C sells for $100 with a two-year contract in the U.S. An unsubsidized 16 GB iPhone 5C purchased directly sells for $549.
Apple also sells an 8 GB version of the two-year old iPhone 4S in the U.S. for free with a new two-year contract.
Many analysts had expected the iPhone 5C to be a low-cost smartphone aimed at the Chinese market. In fact, its price was consistent with previous "last-generation" smartphones that Apple has sold, and its plastic shell was designed to help Apple improve its declining profit margins. But the higher-than-expected price has scared off many potential Chinese customers.
Related: Apple Stores now fixing cracked iPhone 5C screens
Still, it's unclear just how much demand Apple can muster up for a smartphone that hasn't proven particularly popular at any price point. In an attempt to clear out inventory, Wal-Mart (WMT,Fortune 500) recently slashed the 16 GB iPhone 5C price to just $27 with a new two-year contract.
Also on Tuesday, Apple brought back the fourth-generation iPad with Retina display, a tablet that was replaced by the thinner iPad Air in October. While bringing back the fourth-generation iPad, Apple finally stopped selling the iPad 2 -- a tablet that has been on the market since 2011.
The fourth-gen iPad will only be available with 16 GB of storage, but it will start at $399 -- the same price for which Apple was selling the less-capable iPad 2.

United Airlines to offer free TV, movies on Apple devices, laptops
United Airlines in coming weeks will begin offering free inflight streaming TV and movies to passengers who use their own laptops and Apple devices, a move toward providing video entertainment on personal devices rather than overhead and seatback screens.

Starting in April, the Chicago-based carrier will begin outfitting planes with the ability to stream video content, with initial rollout supporting only laptops and Apple mobile devices, such as iPads and iPhones, with an upcoming United Airlines app. Compatibility with Android devices will be offered later in the year, a United spokeswoman said.

"We have so many more customers who have mobile devices, and when they fly they're looking for content to keep them entertained," United spokeswoman Karen May said. "Overall on our mainline fleet we plan to have Wi-Fi as well as an inflight entertainment option that offers our customers a form of choice...We are particularly looking at personal-device entertainment."

The service will initially be free and not require purchase of inflight wireless Internet service, being sponsored by the by the airline's MileagePlus Explorer credit card. "We can't speak about what might happen in the future," May said about charging for video streaming or purchasing Wi-Fi access.

With the streaming service, passengers can choose from more than 150 movies and nearly 200 television shows. TV choices will include full seasons of "House of Cards" and "Downton Abbey," along with episodes of "Friends" and "2 Broke Girls." Movies include "Iron Man" films 1, 2 and 3, "The Social Network" and "Forrest Gump."

With the service, passengers can start, stop, rewind, pause and switch a movie or TV show.

Airlines have offered inflight Internet access for personal devices for some time, but only in recent years began offering streamed TV and movie content. For example, Southwest Airlines, the largest carrier at Chicago Midway airport, last year began charging $5 per device for on-demand movies streamed to their own personal devices.

No United aircraft are yet equipped with the service but will be sometime in April, May said, adding there is no specific date set.

Most of United's domestic planes will be equipped with the new system by the end of 2014, beginning with Airbus A319, Airbus A320, Boeing 747-400 and select 777-200 aircraft, the airline said. Information on United.com and the airline's mobile app can identify whether a particular flight is likely to have the service. The service will not be available on United-branded regional jets operated by partner airlines.

Some video will require a browser plug-in on computer laptops, which do not have to be Apple. And some video to Apple mobile devices, such as an iPad, will require an updated United app, which can be downloaded inflight without paying for Wi-Fi access, the airline said. Other programs can be watched through the United portal on a web browser without a plug-in or app.

To keep devices running, United is also in the process of installing seat-based power outlets to fleets getting the personal-device entertainment systems, May said.
Apple releases iOS 7.1 for iPhone, iPad with bug fixes, new features
Apple has released iOS 7.1, the latest iterative version of its mobile software for its smartphones and tablets.
The software was made available for download on Monday, a week shy of six months after a radically redesigned iOS 7 was released.
The latest software version is is compatible with iPhone 4 and later, iPad 2 and later, and iPod touch (5th generation) devices.
Users of iOS 7 and older versions can upgrade compatible devices over-the-air by navigating to "Software Update" in the "General" section of the device's settings.
iOS 7.1 includes a number of bug fixes that have plagued some early adopters, along with user interface design tweaks, such as visual changes to the phone dialer and power-off features.
The software also lands with a number of new features, including:
CarPlay: formerly known as iOS in the Car, which supports iPhone calling, music, maps, and messaging. It also allows users to control certain functions through iOS' in-built voice-activated assistance Siri;


Siri improvements: Including natural-sounding voices for U.K. English, Australian English, Japanese, and Mandarin Chinese. You can also use it in push-to-talk mode by holding the Home button for the duration of your query;


Calendar changes: The list view has returned in month view, and the update has also included country-specific holidays added for many locales;


iTunes Radio updates: The radio feature, first introduced in iOS 7, has been updated with new features, including the ability to buy albums over-the-air from "Now Playing";


Accessibility additions: The "parallax" motion feature option now includes Weather, Messages, and multi-tasking user interface animations. New options have been added to allow users to display a darker keyboard;


Camera settings bolstered: Including a setting that allows users to automatically enable HDR mode for iPhone 5s users;


Touch ID improved: The software that controls the biometric reader has been improved to make fingerprint recognition better.
Overall, with its user interface and bug fix improvements, the update is designed above all to resolve some of the initial problems with the software, which some insiders previously reported was rushed in order to land in line with the release of iPhone 5s and 5c smartphones in September.
According to Apple, about 82 percent of all compatible iPhones, iPads, and iPod touch devices are running iOS 7 as of late February, based on App Store data.
As many millions have waited to upgrade until some of the known and well-documented bugs and user interface flaws have been resolved, that figure is expected to rise significantly in the next days.
For those not able to download over-the-air, Windows and Mac users can alternatively connect their compatible iPhones, iPads, and iPod touch devices to iTunes, and upgrade by selecting the "Check for Upgrade" button in their device's summary window.
Or, users can download the software bundle (.IPSW) files from Apple's website for offline installations in the coming hours. (Enterprise users can use Apple's Phobos server for download links.)
In past updates, downloads are often slow at first as millions attempt to upgrade at the same time.
Downloading over a Wi-Fi connection is recommended due to the size of the file, and some users may have to delete content from their devices in order to install.
Apple to Launch 'iOS in the Car' with Ferrari, Mercedes-Benz and Volvo Next Week
Ever since "Car Display" showed up in General -> Restrictions in some of the early iOS 7 beta versions we've known that iOS in the Car would be coming along shortly.Financial Times has now confirmed that Apple, in collaboration with Ferrari, Volvo and Mercedes-Benz, will be announcing its in-car operating system at next week's Geneva Motor Show.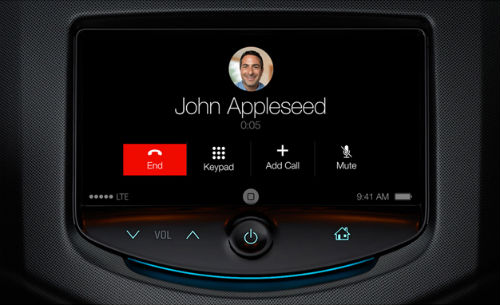 iOS in the Car will allow auto manufacturers to integrate iOS devices with their vehicles' native control systems, thereby allowing an operator to access iOS functions through his/her vehicle's interface. Initially, the focus will be on functions such as Siri, telephony, navigation, music control and messaging. This is just the infancy of what is bound to be a massive evolutionary step for both smart devices and the automobile industry, that could culminate in vehicles being monitored or even controlled by a central computer. Suddenly Minority Report doesn't seem like the far distant future. Back to here and now, just about every auto manufacturer and a lot of the big technology companies, including Google, Microsoft, Apple and IBM are entering a period of intense competition for a market share in tomorrow's smart cars. Earlier this year, in his keynote address at International CES, Audi chairman Rupert Stadler described automobile connectivity as a "real mega trend" and said, "if mobility used to be about connecting places and people, it is now about connecting the driver with the car, the car's surroundings, the traffic infrastructure, and all of the other connected elements of their life." He also said that connected automobiles will "become the largest social mobile devices we own." iOS in the Car is taking the first step in that direction.
Although next week's announcement only involves Ferrari, Volvo and Mercedes-Benz, many other manufacturers are expected to incorporate it in their vehicles in 2014, according to Financial Times. At last year's WWDC keynote, Apple Senior Vice President of Internet Software and Services, Eddie Cue, listed several manufacturers that had expressed interest in iOS in the Car, including Ford, Chevrolet, BMW, Nissan, Honda, Acura, Toyota and Hyundai among others.
Disney Teams With Apple Inc. to Launch Cloud-Based Digital Movie Service
Today The Walt Disney Company (NYSE: DIS ) announced that it has teamed with Apple (NASDAQ: AAPL ) to introduce Disney Movies Anywhere, a digital movie service that is cloud-based and will be made available through an app to be used with the iPhone, iPad, or iPod touch, as well as on the web. As a result, Disney Movies Anywhere will use iTunes as its "the premier digital movie provider."
"Disney Movies Anywhere offers an exceptional consumer experience built around some of the most beloved and popular entertainment brands in the world," noted the president of The Walt Disney Studios, Alan Bergman, in the company press release. "This unique technology underscores Disney's commitment to meeting our consumers where they are with the content they want, and we're thrilled to debut with iTunes..."
The new Disney Movies Anywhere app will allow users access to the 400 active digital movie titles made available by Disney, Pixar, and Marvel. The press release highlights how the partnership between Disney and Apple will allow for individuals to sync their iTunes account to the Disney app, which will allow their existing Disney collection to be viewed. Disney will also allow customers to access the movies they received a digital copy of when they purchased a hard copy of the DVD or Blu-ray.
Disney noted the new technology will give consumers access across different devices -- including the popular products mentioned above, as well as Apple TV and web browsers -- allowing them to stream and purchase movies simultaneously across one account.
"The beauty of this technology is that it enables us to work with iTunes and future provider partners to ensure movie lovers have streamlined access to all of their favorite Disney titles no matter which device they are on," Jamie Voris, The Walt Disney Studios Chief Technology Officer, is quoted as saying.
The 15 Apple Events That Helped Change The World
Apple Computer, Inc. was born on Jan. 3, 1977 when the company became incorporated. Thirty years ago, on Jan. 24, 1984, Apple released the world's first Macintosh. On Jan. 9, 2007, the late Apple CEO Steve Jobs proclaimed "Apple is going to reinvent the phone," and he was correct. The iPad was announced on Jan. 27, 2010.
January has been an important month in the history of Apple. As we celebrate this month of anniversaries, we look back at 15 events that shaped the company during the past 37 years.
The Apple II is introduced at the first West Coast Computer Faire. It includes a MOS Technology 6502 microprocessor running at 1Mhz, 4KB of RAM, and an audio cassette interface.
Dec. 12, 1980
Apple goes public at $22 per share. When it does, it generates more capital than any IPO since Ford Motor Company in 1956. Within moments, the world has 300 new millionaires.
Jan. 22, 1984
Steve Jobs and Apple introduce the "1984" commercial during Super Bowl XVIII which pits the Washington Redskins against the eventual winner, the Los Angeles Raiders.
The ad is still considered one of the best ever created.
Jan. 24, 1984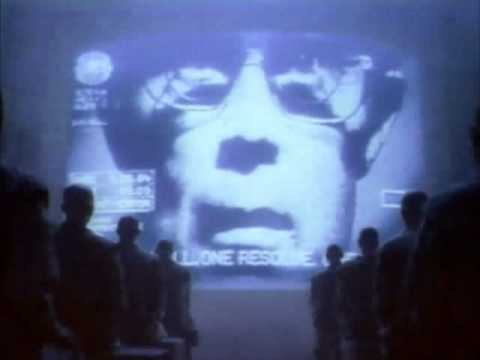 Two days after "1984" airs, Jobs introduces the world to the very first Macintosh. It becomes the first commercially successful personal computer to feature a mouse and a graphical user interface.
Before the end of 1985, Jobs leaves Apple. For nearly a decade, the company is in decline.
July 9, 1997
Apple CEO Gil Amelio is ousted and Jobs returns as interim CEO. Eventually, interim would be dropped from his title.
Aug. 15, 1998
Cupertino unveils a new all-in-one computer called the iMac that was created by Jony Ive. The executive, of course, who later help create the iPhone, iPad and next-generation Macs.
May 19, 2001
Apple opens the company's first two retail stores in Virginia and California. By the end of 2012, that number had risen to almost 400 stores worldwide.
Oct. 23, 2001
The iPod is announced which reboots the entire music industry.
Apr. 28, 2003
The iTunes Music Store launches. Users are now able to download songs and albums legally on their computers and place them on mobile devices.
Later, books, TV shows, movies, and of course, apps were added to the iTunes store.
Jan. 9, 2007

Apple Computer, Inc. becomes Apple, Inc. since the company was no longer focused solely on computers. They also used the event to announce the iPhone.
June 29, 2007
The first iPhone goes on sale. Since then, sales for Apple's smartphone have increased each year.
July 10, 2008
The App Store opens, offering third-party developers a way to sell their products for use on the iPhone/iPod touch, and eventually, the iPad.
Apr. 3, 2010
The first-generation iPad is launched in the U.S. Apple would sell 500,000 units before the end of the first week.
Oct. 5, 2011
At 56, Jobs dies. In August, he had resigned as Apple CEO and was replaced by Tim Cook.
Dec. 19, 2013
Apple finally releases the second-generation Mac Pro. The cylindrical device takes up about one eighth the volume of previous models. Its arrival shows that Apple hasn't forgotten its roots as an innovator.
Apple Names Duolingo Top Free App of 2013
While Candy Crush may have come out on top in the race to the most downloads from Apple's App Store in 2013, a language app called Duolingo has been voted as the iPhone App of the Year by Apple's own staff.
Designed and launched by computer science teacher Luis von Ahn and his student Severin Hacker of Carnegie Mellon University, Duolingo is an app that works to teach its users any one of six languages, including English, Spanish, Italian, German, Portuguese, and French.
Von Ahn is best known for developing the popular CAPTCHA and reCAPTCHA software, tools that are used across the internet in order to increase website security and deter so-called "spam bots."
Offering language lessons very similar to those found in the popular Rosetta Stone software for PC, Duolingo has one very attractive feature that helped it to achieve more than 10 million downloads in 2013: it's absolutely free.
The app works with the iPhone's media capabilities to create and deliver its lessons, relying on sound bites, video clips, and pictures to help foreign words stick in the minds of its students. By following its regimented programs and employing its interactive features while on the go, Duolingo promises to further language education now and into the future, especially in light of the fact that its creators have promised that this new distinction will not result in a change of its free availability.
Despite remaining free, Duolingo's makers have said that they hope to increase the app's offering up to 50 languages during the first half of 2014.
Apple Set to Release Hybrid iPad Pro in 2014 Shaking up Notebook Market
Apple Inc. is set to unveil a 12-inch hybrid iPad Pro in the fall of 2014, a move that could basically change the notebook PC landscape, reports AppleInsider.
According to Evercore Partners analyst Patrick Wang, the new iPad model will feature a larger 12-inch display powered by a next-generation "A8″ processor built by Apple. Unlike the previous models, the hybrid iPad Pro is rumoured to shake up the traditional-established notebook market by serving as both a tablet and a notebook, making the model more appealing to enterprise and business customers.
Analysts claim that the hybrid iPad Pro will be a step ahead of the regular iPad Air and will definitely be a lot bigger than the iPad Mini. While the tech trend was shifting towards smaller and more portable tablets, this new and larger hybrid model can be expected to bridge the gap between notebooks and tablets.
Wang calls the 64-bit infrastructure incorporated in Apple's "A7″ chip a "game changer", that sets the stage for a new hybrid iPad which would eventually show the company's renewed focus on the enterprise market. The 64-bit A7 processor currently powers the iPad Air, iPad mini and iPhone 5s with Retina display.
Microsoft has been trying to takeover Apple with its hybrid Surface Tablets running on Windows 8, but thus far it has been largely falling. Apple's CEO Tim Cook in a recent iPad event stated that the user experience on the iPad was "incredible", and that the Surface Tablets were "confusing and inconvenient", turning tablets into PCs and vice-versa.
Wang further added that the hybrid model would expand the market of chipmaker ARM, which currently makes the sample designs for Apple's A-series processors. ARM chip is estimated to represent only 4 percent of Apple's 128GB iPad. This could create a greater price competition between ARM and Intel, the dominant player in the traditional computer chips, as ARM's gains would come at a cost to its rival chipmaker.
Want to have the Macswest calendar appear in your iCal calendar? Do the following.
Open iCal on your Mac, Click on Calendar then Subscribe. A window will open, copy and paste the following URL then click Subscribe. That's all there is to it.
http://www.google.com/calendar/ical/macswestscw%40gmail.com/public/basic.ics