This Week @ MacsWest

Teaching, Helping, Learning and Having Fun!
• Monday, July 28


With all that news about Apple's new stuff, did we miss anything? Maybe.
Go to Did I Miss This?
• Tuesday, July 29
1:00 PM – iPad Casual Tuesday, hosted by Bill Turvin, Palo Verde Room, until 2:00 PM

• Wednesday, July 30


Nothing Scheduled
• Thursday, July 31


Nothing Scheduled
• Friday, August 1
1:00 PM – Grab Bag Friday, hosted by Doris Turner, Palo Verde Room, until 2:00 PM
• Saturday, August 2


Nothing Scheduled
Apple Wins a Patent for a Wristwatch Branded iTime
Apple Wins a Patent for a Wristwatch
Apple's invention pertains to a smartwatch which is often referred to as an electronic wristwatch or an electronic wristband. In one embodiment, the electronic device can be a mobile electronic device that can be removably coupled to the electronic wristband.
Advantageously, the electronic device can utilize the additional electrical circuitry or devices provided within the electronic wristband to augment its capabilities. In another embodiment, the electronic device can be integrally formed within the electronic wristband.
The invention may be implemented in numerous ways, including, but not limited to, a system, device, apparatus or method.

As an electronic wristband to be worn on a wrist of a user, one embodiment of the invention can, for example, include at least a central portion and at least one band portion.
The central portion can have a receptacle area configured to receive a mobile electronic device (and different ones at that). The mobile electronic device can include a display and be independently useable apart from the electronic watchband.

Apple and IBM partner to make iOS king of the office
Apple and IBM have just announced what the companies describe as a "landmark partnership" designed to "redefine the way work will get done, address key industry mobility challenges and spark true mobile-led business change." Put more simply, they're aiming to combine their respective strengths and aggressively tackle the enterprise market. IBM says it will contribute its big data and analytics expertise, with Apple offering the "elegant user experience of iPhone and iPad." The move could transform Apple, which ordinarily focuses squarely on consumers, into a true business powerhouse. It could also touch off a new battle with Microsoft, which now more than ever is focused on the enterprise and cloud services.
Apple and IBM want to conquer the enterprise
IBM will sell iOS devices to corporate clients that come preloaded with enterprise software designed in collaboration with Apple; those apps will become available "starting this fall" with more debuting in 2015. Both companies are promising "a new category of mobile apps" that address the needs of specific industries like "retail, healthcare, banking, travel, telecommunications, and insurance." The apps will of course make heavy use of IBM's cloud infrastructure, all the while coexisting with Apple's own services like iCloud. Apple also announced that it plans to add a new "AppleCare for Enterprise" customer service tier that will provide IT departments and users with 24/7 support.
In an interview with Recode, Tim Cook basically admitted that Apple needed to look outside the company to piece together an offering that meets every conceivable enterprise need. "We're good at building a simple experience and in building devices," he said. "The kind of deep industry expertise you would need to really transform the enterprise isn't in our DNA. But it is in IBM's." Apple has fared alright without IBM's support; plenty of Fortune 500 businesses have already deployed many, many iPhones and iPads to end users.
But teaming with IBM will only take that momentum further. "Arguably there is a new level to achieve in business," he told CNBC. "We knew we couldn't do it alone," Cook said, adding that Apple found a "kindred spirit" in IBM. Ginni Rometty, IBM's CEO, agrees. "We are delighted to be teaming with Apple, whose innovations have transformed our lives in ways we take for granted, but can't imagine living without," she said in a statement. "Our alliance will bring the same kind of transformation to the way people work, industries operate and companies perform."
Apple releases iOS 7.1.2 with iBeacon, Mail attachment, third-party accessory fixes & Apple TV OS 6.2
Apple has released iOS 7.1.2 to end users today over-the-air with the following changes:
• Improves iBeacon connectivity and stability
• Fixes a bug with data transfer for some 3rd party accessories, including bar code scanners
• Corrects an issue with data protection class of Mail attachments
The update is available over-the-air or via iTunes for the latest iPhones, iPads, and iPod touches. The fix for Mail addresses a well-publicized security problem regarding attachments. Apple has also released OS X 10.9.4 with various bug fixes and security enhancements.
The build number is 11D257 and it comes in at approximately 30 MB over-the-air on the iPad and 32 MB on the iPhone. The update is approximately 1.4GB for a complete download via iTunes.
In addition, Apple has released Apple TV software version 6.2 (build number 11D257c) without any major changes. The update addresses stability and performance issues:
Includes general performance and stability improvements.
OS X Mavericks 10.9.4 Update Brings Safari 7.0.5 and Miscellaneous Fixes
Apple has released 10.9.4 system update for OS X Mavericks. The update brings Safari 7.0.5 and a bunch of bug fixes, including one for an issue that prevented some Macs from automatically connecting to known Wi-Fi networks. The update also claims to improve the reliability of waking from sleep, while fixing an issue that caused the background or Apple logo to appear incorrectly on startup.
Like any other Apple OS update, OS X 10.9.4 also contains fixes for a bunch of security issues. The details of these issues can be found on Apple's website.
As usual, to download and install the update, click the Apple menu and choose Software Update to check for the latest Apple software via the Mac App Store, including this update. The update's size may vary from computer to computer when installed using Software Update, depending upon what earlier updates you had installed.
You can also download the manual update installer. This is especially useful when you need to update multiple computers but only want to download the update once. These versions of the standalone installers are available from Apple Support Downloads.
About the update

The OS X Mavericks 10.9.4 Update is recommended for all Mavericks users. It improves the stability, compatibility, and security of your Mac.

This update:

Fixes an issue that prevented some Macs from automatically connecting to known Wi-Fi networks
Fixes issue causing the background or Apple logo to appear incorrectly on startup
Improves the reliability of waking from sleep
Includes Safari 7.0.5
Apple Inc. Launches New 16GB iPod Touch
Apple has added more colors to iPod touch entry level 16 GB version along with rear camera, and slashed the price of all three versions.
Apple has updated its entry-level iPod touch by adding a rear iSight Camera and offering some new color options. The price of the newly launched gadget is $199. The iPod touch 32 GB and 64 GB price has also been reduced to $249 and $299 respectively.
No other changes to iPod touch
Now, similar to higher version, iPod touch 16 GB is also available in different colors like black, space grey, pink, yellow, blue, and (Product) RED. Apple (NASDAQ:AAPL) has made available full range of iPods on it online store that will be shipped within 24 hours. Before the update, 16 GB iPod touch was only available in space grey color and did not sport a camera. The iPod touch loop wrist strap was also absent.
Previously, the 32 GB version was available for $299 and 64 GB used to cost around $399. All other specs remain unchanged on the 16 GB version. All iPod touch has a 4-inch Retina display, a forward facing FaceTime HD camera, and powered by Apple Inc.'s A5 processor. All the models are compatible with iOS 7 and are packed with the Apple's EarPods.
Prior to this update, the iPod touch was updated in June 2013. The iPod touch replaced the fourth generation model, which used to cost $199, but had a slower A4 chip.
Market shrinking, Apple still leads
The iPod was the major growth driver and main reason behind Apple's revival some years back. However, the media player is phasing out gradually and represents only a small portion of Apple Inc.'s massive business dominated primarily by the iPhone and iPad. Though, the market is shrinking, the iPod continues to be the most demanded media player. NPD group pegged Apple's share at 72%.
Apple repeatedly stated during its earnings conference calls that iPod touch contributed for more than half of total iPod sales, but denied to give category wise data. Last quarter, the sales of iPod dropped to just 2.7 million units, which was absent from the company financial result discussion.
Apple has made available more than 1.2 million apps on iPod touch along with hundreds of thousands of games. Users can, also, access selection of music, TV shows, movies and books by purchasing them or downloading directly to their iPod touch.
Apple introduces a new entry-level iMac
If you're in the market for a new Apple computer, but can't afford a top of the line model, you'll be pleased to know Apple has today rolled out a new entry-level iMac.
The new system is available now and comes with a 21.5 inch screen, 1.4 GHz dual-core Intel Core i5 processor, 8GB of memory, a 500GB hard drive and Intel HD Graphics 5000.
It's priced at $1,099, which is $200 cheaper than the next model (which offers a 2.7GHz quad-core Intel Core i5 processor and a 1TB hard drive).
Configuration options let you boost the iMac's storage to 1TB for an additional $50, or you can select a 1TB Fusion Drive, (or add 256GB of Flash storage) for an extra $250.
It's obviously not the most powerful iMac, but if you're not too worried about performance, it's certainly a decent choice for the hom
Apple to make 3-5 million smartwatches monthly, sales begin October:
Credit: Reuters/Robert Galbraith/Files
(Reuters) - Apple Inc is preparing to sell its first wearable device this October, aiming to produce 3 million to 5 million smartwatches a month in its initial run, the Nikkei reported on Friday, citing an unidentified parts supplier and sources familiar with the matter.
Specifications are still being finalized, but the devices are likely to sport curved OLED (organic light-emitting diode) displays and sensors that collect health data from blood glucose and calorie consumption to sleep activity, the Japanese news service cited industry sources as saying.
The industry has long expected Apple to unveil some sort of smartwatch, following the release of Samsung Electronics' Galaxy Gear watches.
Wall Street is hoping to see a new Apple product this year to galvanize the former stock market darling's share price and end a years-long drought of ground-breaking devices. CEO Tim Cook has promised "new product categories" in 2014.
Apple declined to comment.
(Reporting by San Francisco newsroom. Editing by Andre Grenon)
Apple announces OS X Yosemite, deepens its ties to iOS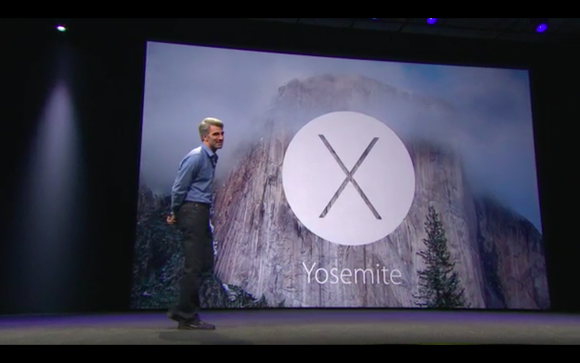 Apple on Monday announced that the next version of the Mac OS—dubbed OS X Yosemite, after the popular National Park in California—will be available as a free upgrade to the public this fall.
The jam-packed operating system update features a significant user interface overhaul, rich with bright colors and translucent effects, plus numerous changes to the visual identity of almost every system app that brings them closer to their iOS counterparts. The interface now also comes with a "dark" mode, which dims system elements like the Menu and Dock and allows apps to be more prominent.
The changes, however, are more than skin deep, as many system components have been updated and improved. Spotlight, for example now appears as a convenient text box in the middle of the screen and provides access to information from a large variety of sources, including the various App Stores. Notification Center is now fully customizable—and includes support for third-party widgets.
Among Apple's own apps, Safari now sports a slimmer interface that leaves more room for content, and includes improved support for advanced Web technologies such as CSS and WebGL. Mail's improvements include the ability to annotate and even sign messages and attachments directly within the app, and sharing them with others.
The company's services ecosystem will also experience several improvements when Yosemite hits the digital shelves: iCloud gains a new Drive feature, which offers access to file-based cloud storage à la Dropbox. A new feature, called Continuity, allows users to begin tasks on one device and continue them seamlessly on another, and is based on the same technology as AirDrop, which will finally work across both iOS and OS X.
Speaking of iOS, the integration between Apple's mobile and desktop operating systems now extends to the ability to easily share cellular phone calls and SMS messaging, with support for both baked right into OS X, which will be able to make and receive calls seamlessly, so long as an iPhone is within reach and paired via Bluetooth.
In a departure from tradition, the company will also institute a public beta program that will allow users to test the new operating system before its general availability, regardless of whether they are part of the company's developer program.
iOS 8 additions promise to streamline how you communicate and share

iOS users will have plenty of new things to familiarize themselves with this fall. That's when iOS 8 arrives, and Apple's updated mobile operating system promises a slew of new features and enhancements that aim to help you communicate and share more easily.
While most of us will have to wait until the fall to really explore the many changes announced Monday during the Worldwide Developers Conference keynote, app makers and developers will get an early crack at iOS 8, with a pre-release version available now for anyone with a developer account. Here are the features we're most excited to see: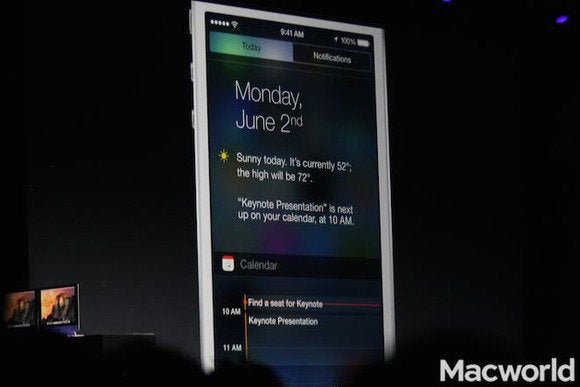 Notifications: Perhaps most notably, Apple introduced new interactive notifications that allow you to respond to alerts without having to leave the app you're in. Get a calendar invitation, and you can respond, all while continuing to compose that email or—more likely—play that mobile game. You can also interact with notifications from your mobile device's lock screen, swiping on a notification to deal with it.
iOS 7 added the ability to double tap the home button to bring up a multitasking menu. iOS 8 adds most frequent contacts across the top of the multitasking menu, allowing you to quickly call, text, or FaceTime friends, family, or other VIPs.
Mail: Mail will get several new tools in iOS 8, starting with the ability to add an event to your calendar directly from within an email message. Mail now incorporates several new gestures into the interface, letting you swipe to flag, delete, or mark an email as unread. Dragging all the way across on a message will delete it from your mailbox.
Perhaps one of the coolest feature in iOS 8's Mail will be the ability to minimize drafts by swiping down. With this feature in place, you'll be able to more easily grab information from one message and put it in another.
Safari: The built-in browser for iOS is in line for a few updates as well. Safari's quick-glance tab view from OS X comes to the iPad version of the browser as will the just-announced sidebar slated for OS X Yosemite, which Apple also previewed on Monday.
Search: OS X's Yosemite update also inspires some new spotlight features in iOS 8. Searching for "Yosemite," for example, brings up the Wikipedia page for Yosemite, news, and all other kinds of relevant information.
Keyboard: A new keyboard in iOS 8 will use predictive typing to speed up input. As you type out words with the new keyboard, recommendations for the next word based on common phrases will pop up; you can then add those to your message. We've seen this a bit with the keyboard in theSwiftKey Note app, but Apple's solution goes a bit further to learn your personal voice (all the while maintaining your privacy, Apple executives were quick to add during Monday's keynote.)
Continuity features: Apple wants better integration between all those devices you own, so iOS 8 is going to let you pick up on your iPad what you were doing on your iPhone. That includes taking phone calls on your tablet by more easily creating a portable hotspot for sharing your phone's connection.
Messaging: Enhancements in the Messages app in iOS 8 focus on group messaging; you can add and remove people within a thread. Other enhancements let you name your thread for easily tracking or turning on a Do Not Disturb setting for a particular thread. You can share your location with people in a conversation;if they've shared with you, you can see their location on a map.
A useful addition to Messages is a Tap to Talk feature that sends audio or video messages to contacts—and yes, it works with selfies, too. Best of all, you can listen to and interact with these to messages right from your lock screen just by putting your phone up to your ear.
iCloud Drive: iCloud Drive promises a better way to work across applications in iOS 8. For example, if you're working in an app such as Sketchbook, you can open up a document from another application and edit them in that app.
HealthKit: Craig Federighi, Apple's senior vice president of software engineering, lamented how different health wearables are unable to talk to each other and share the information they gather. iOS 8 looks to address that problem with HealthKit, an attempt to take health stats and put it in a central repository so you can manage it all from one app. Partnerships with the Mayo Clinic and Epic Systems (who provide software for many major hospitals and healthcare organizations) will make it easier for iPhone users to share key health statistics with their doctors, in order to better manage their health between checkups.
Family Sharing: iOS 8 introduces better management features to let family members easily share photos, location, reminders, and many other pieces of information with each other. The chief benefit here: You're finally going to get to share music, movies, and TV shows you've bought with other family members. You can hook in up to six devices. Parents in particular will appreciate new notifications that alert you when your kids try to make a purchase.
Photos With iOS 8, photos will be integrated with iCloud so that every photo you take will be available on all your iOS and OS X devices. To help you sort through all the photos in iCloud, you can search by location, time, and albums you've set up. And there are smart editing controls that help you quickly edit and crop photos from your device.
Siri. Siri also gets some enhancements in iOS 8. Saying "Hey, Siri" will now let you interact with Siri in your car so you don't have to touch your phone while driving. (OK Google, that feature may sound pretty familiar to you.) Siri will also add Shazam integration to help identify the song that's currently playing on the radio; you can buy that song using voice commands from Siri. Apple's digital assistant also gains streaming voice recognition and 22 new dictation languages in iOS 8.
Cox Communications plans 1 gigabit speed for Phoenix Internet customers
Cox Communications is upping the ante in the battle for broadband supremacy, bringing 1 gigabit Internet speeds to Phoenix and going head to head with Google Inc.
The Atlanta-based company, which is the major cable and Internet provider in Phoenix, announced the plan this morning to put in the gigabit service for all new construction. Phoenix, along with Las Vegas and Omaha, also will see existing customers get the speed bump by the end of 2016.
"We are excited about our road map to offer gigabit speeds to all of our residential customers," saidPat Esser, Cox Communications president.
Company officials said it does not yet have prices for how much it will cost for the 1 gigabit service.
The plan was unveiled at Mark Taylor Residential's San Travesia apartments in Scottsdale, where Cox will first offer the product as well as Cox Metro wi-fi.
"Offering the fastest Internet speeds and wi-fi access where our residents live and play, makes it essential to connecting our tech savvy residents," said Dale Phillips, president of Mark-Taylor Residential.
The Metro service will launch later in 2014 and give Cox customers access to more than 250,000 hotspots around the country.
While current customers will have to wait more than two years for the increased speeds, Cox plans to double its existing speeds by the end of the year. Those with the preferred tier will see speeds rise to 50 megabits per second, and those on the premier speed will see speeds of 100 megabits per second. Company officials said there would be no price increase this year when Internet speeds are increased.
The move is a clear shot at Google, which has listed Phoenix as one of its finalists to install its Google Fiber network. That network, however, would be limited to Phoenix, Scottsdale and Tempe.
Google's move is still in the evaluation stages, but the city of Phoenix has given the company permission to use city land to place network hubs to help build the network.
Patrick O'Grady is managing editor of the Phoenix Business Journal.
Apple reportedly readying new smart home platform
Apple plans to launch a new smart home platform at next month's Worldwide Developer Conference that will allow iPhones and iPads to control a home's lights, security system, and other connected appliances, according to a Financial Times report.
The new "software platform," which will be unveiled at WWDC on June 2, will be built into the iOS devices, according to the report, which cited anonymous sources. As with Apple's "Made for iPhone" program, the new platform will be open to third-party device makers, allowing their gadgets to work on Apple's automation system.
One application of the new software platform cited by the newspaper was the ability to automatically turn on the lights when an iPhone paired with the system enters a building. Appleoutlined its ideas for a home automation system in a patent filing last November.
The move is seen as a "big play" to challenge device giant Samsung and Google, which in February closed its $3.2 billion acquisition of Nest Labs, maker of the Learning Thermostat and the Protect smoke and carbon monoxide detector.
As companies look for opportunities to expand smartphones' reach, home automation is seen as one of new markets for growth. Apple already has made inroads with the automobile sector. AtWWDC 2013, Apple announced plans to better integrate iOS into car dashboard screens. Apple's iBeacon location-sensing technology, which debuted late last year on devices running iOS 7, is already in use for indoor navigation, automatic ticketing, and location-relevant promotions.
CNET has contacted Apple for comment on the report and will update this report when we learn more
Microsoft launches $70/year Office 365 Personal for Mac, iPad
Tuesday, April 15, 2014, 10:02 am PT (01:02 pm ET)
By
Pricing on Microsoft's Office 365 service became a little more affordable for individual users on Tuesday, as the company launched a new "Personal" subscription plan priced at $69.99 per year.



The new Office 365 Personal subscription includes access to the service through one Mac or PC, as well as one tablet, including Apple's iPad. Previously, the cheapest option was Office 365 Home, which is priced at $99.99 per year with a one-year commitment.

While the Home plan, which still remains, includes access on 5 Macs or PCs and 5 tablets, the new Personal subscription is limited to one of each. Both plans come with smartphone access, and the ability to access the online versions of Word, Excel, PowerPoint and OneNote.

The new Office 365 Personal plan also comes with offline storage, 27 gigabytes of online storage for one user, and 60 world minutes of calling per month to 60+ countries with Skype.




For those who don't want to commit to a full year, Office 365 Personal access can also be purchased for $6.99 per month, while the Home plan runs $9.99 per month.

Microsoft's industry leading Office suite debuted on Apple's iPad late last month. Word, Excel andPowerPoint are all free-to-download applications that come with the ability to view documents, while editing and saving requires a subscription to the Office 365 service.

Users can even subscribe to Office 365 through the official iPad applications, granting Apple its traditional 30 percent cut of all in-app and App Store purchases.

Downloads of Office for iPad hit 12 million units in the suite's first week of availability. The applications go head-to-head with Apple's own Pages, Numbers and Keynote for iOS.

As for the Mac, Microsoft has signaled that it is planning to release a new version for Apple's OS X platform later this year. The suite was last updated on the Mac in 2010, and subsequent updates have not arrived because Microsoft disbanded its Mac business unit soon after it launched.
Want to have the Macswest calendar appear in your iCal calendar? Do the following.
Open iCal on your Mac, Click on Calendar then Subscribe. A window will open, copy and paste the following URL then click Subscribe. That's all there is to it.
http://www.google.com/calendar/ical/macswestscw%40gmail.com/public/basic.ics