This Week @ MacsWest

Teaching, Helping, Learning and Having Fun!
• Monday, May 25, 2015


MEMORIAL DAY (don't forget to fly the flag)
• Tuesday, May 26, 2015
1:00 PM – iPad Q&A Session, hosted by Mary Kocha, Palo Verde Room, until 2:00 PM
iPad Basics Sessions will begin July 7
• Wednesday, May 27, 2015


10:00 AM – Senior Genius Bar: hosted by various members of the MW Club, Room C, every Wednesday (Yes, even over the summer!), until 11:30 AM. These are one-on-one help sessions regarding ANYTHING Apple. For MW Members ONLY! No fee. Walk-ins are encouraged. Senior Genius Bar will continue every Wednesday through the summer and into the fall. By then you people should have learned everything there is to know about the Mac, the iPhone, the iPad, and won't need any more help and some of us will be able to sleep in on Wednesdays! Right?
• Thursday, May 28, 2015

Let's Face It Folks, There Ain't Gonna Be No More Thursday Activities For The Remainder Of The Summer! Everyone together now… Awwwwwww!
• Friday, May 29, 2015
OSX 10 Grab Bag Session, hosted by John Huotari and Jim Beckwith. (This is the first of the summer Friday sessions dealing with anything and everything Mac. Beginning next Tuesday and also continuing all summer long, the iOS Casual Tuesday Sessions will deal with everything about the iPad, iPod and iPhone [and, if Bruce insists, the iPod Touch])
• Saturday, May 30, 2015


On this day in 1848, Mexico ratified the Treaty of Guadalupe Hidalgo, an accord that gave the US all or parts of New Mexico, California, Nevada, Utah, Arizona and Colorado, all in return for $15 million. Also known as the Mexican Cession, it added 529,000 square miles to the good, old USA and is the third largest addition of territory in US history—following the Louisiana Purchase and the acquisition of Alaska. So, we here in SCW live on land that cost the USA about $28.35 a square mile, or about 4.4¢ an acre. Considering most of us live on less than a quarter acre, the original cost of what we live on was about a penny. Not a bad deal!
Apple's upcoming TV service could include major networks like CBS
Television broadcaster CBS will likely sign onto Apple's rumored streaming TV service, giving viewers access to marquee shows like Big Bang Theory and NCIS.
Speaking on-stage at the Code tech conference near Los Angeles, CBS CEO Les Moonves said that his network will "probably" sign a deal with Apple to be part of the service. Apple is said to be preparing a streaming TV service that will bundle shows and channels that people normally get through cable providers.
"We're very excited about it," he said, adding that he met last week with Apple's VP of Internet software and services, Eddy Cue. The conversations are still ongoing, however, and nothing's set in stone yet.
While the service is still being developed and its release has reportedly been delayed, it could become a success. Television viewers are increasingly balking at shelling out big bucks for hundreds of channels — most of which they don't watch — and that provide limited flexibility in how they can be viewed. Instead, many are turning to online video services like Hulu and HBO Go, which offer individual television shows on demand.
"Apple TV is trying to change the universe," Moonves said. "I think the age of the 200 channel universe is slowly dying."
"The good news for us, is any one of those groups will need CBS," he said about the various competitors like Apple and Sling that are trying to create online television packages. Larger networks like CBS could benefit by getting a larger proportion of the revenue from these new services than they do from traditional cable television packages.
iPod Touch 6th Generation Release Date, Price, and Specs: Apple to Unveil the iPod Touch 6th Gen This Coming WWDC 2015 in San Francisco?
The upcoming Apple 'iPod Touch 6th Generation' is believed to be a fusion of the latest iPhones and the 'iPod Touch 5th Generation' which will be unveiled this coming WWDC 2015 (World-Wide Developers Conference) this coming June 8-12 in San Francisco.
With the rise of the smartphone, every single phone nowadays can play music; which is why it seems like the technology like iPod might seems to be vanity today.
However there are news that Apple is going to create the 'iPod Touch 6th Generation' which is going to be a marriage between the latest iPhone and the 'iPod Touch 5th Generation'.
The upcoming 'iPod Touch 6th Generation' is believed to sport a Touch ID fingerprint sensor and Siri. It is also believed that the upcoming 'iPod Touch 6th Generation' will sport the upcoming A9 processor and the upcoming iOS 9.
The upcoming 'iPod Touch 6th Generation' will be available in two variants which is the 4.7-inch screen and the 5.5- inch screen. It is also believed that the 'iPod Touch 6th Generation' will sport a storage size ranging from 16GB to 128 GB.
When it comes to cameras, the new 'iPod Touch 6th Generation' will be water-proof that will sport an 8MP camera with a front-shooter of 1.5 MP that will be available in; red, orange, yellow, pink, and green, space gray, silver, white and gold versions.
The 'iPod Touch 6th Generation' was believed to be released last year, but Apple may seems to have delayed the release due to the upgrades needed for the latest iPod Touch.
The 'iPod Touch 6th Generation' price is believed to start from $250.
Apple rolls out cheaper Retina iMac, 15-inch MacBook Pro with Force Touch
Apple is upgrading its 15-inch MacBook Pro, while offering a cheaper downgrade for its 27-inch iMac with Retina 5K display.
The new 15-inch MacBook Pro has a pressure-sensitive Force Touch trackpad, following the footsteps of the 13-inch MacBook Pro and the new 12-inch MacBook. Users can press hard on the trackpad to perform special commands, such as previewing links, editing file names, exposing an app's open windows, and dropping a pin in Maps.
Apple is also using a new type of flash storage that is 2.5 times faster than the previous model, and is improving battery life by an hour, bringing it up to 9 hours of web browsing or movie playback. The base model starts at $1,999 with a 2.2 GHz Intel Core i7 processor, 16 GB of RAM, and 256 GB of storage.
The other big change to the MacBook Pro is optional: Users can get a discrete AMD Radeon R9 M370X graphics card, for when Intel's integrated Iris Pro graphics fall short. It'll cost you though, as it's only available with the $2,499 model that also has 512 GB of storage and a 2.5 GHz Intel Core i7 processor.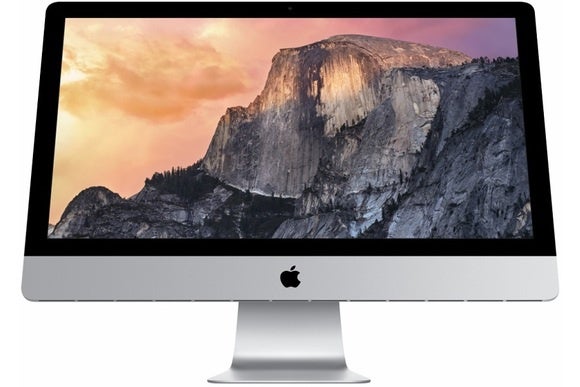 As for the Retina display iMac, Apple is adding a cheaper $1,999 variant with a 3.3 GHz quad-core Intel Core i5 processor, AMD Radeon R9 M290 graphics, and a 1 TB hard drive. The existing model, which has a 3.5 GHz processor, AMD Radeon R9 M290X graphics, and a 1 TB fusion drive, is getting a $200 price drop to $2,299.
Why this matters: While these aren't major product launches for Apple, they do spread some of the company's big technologies to across more of the product line. Force Touch is now standard on every MacBook except the MacBook Air (and is reportedly on the way to the iPhone), and the Retina display iMac is just a $200 upgrade over the regular 27-inch model. It's not hard to imagine both technologies being standard across Apple's lineup in a year or two.
Apple Releases OS X Yosemite 10.10.3 With Photos for OS X App, Emoji Updates
As expected, Apple today released OS X Yosemite 10.10.3, the first significant feature-rich update the operating system has received. OS X 10.10.3 was first seeded to developers in February, and was provided to public beta testers in March.

The OS X 10.10.3 update can be downloaded through the Software Update mechanism in the Mac App Store. OS X Yosemite Recovery Update 1.0 is also available to improve the reliability of Yosemite Recovery when restoring from a time machine backup.


The OS X Yosemite 10.10.3 update includes the new Photos app and improves the stability, compatibility, and security of your Mac.

The update also includes the following improvements:
- Adds over 300 new Emoji characters
- Adds Spotlight suggestions to Look up
- Prevents Safari from saving website favicon URLs used in Private Browsing
- Improves stability and security in Safari
- Improves WiFi performance and connectivity in various usage scenarios
- Improves compatibility with captive Wi-Fi network environments
- Fixes an issue that may cause Bluetooth devices to disconnect
- Improves screen sharing reliability
Earlier Yosemite releases, including
OS X 10.10.1
and
10.10.2
, brought mostly under-the-hood bug fixes and reliability improvements to the operating system, but OS X 10.10.3 includes major new features, like the Photos for OS X app.
Designed to be a replacement for Aperture and iPhoto,
Photos for OS X
was first announced during the 2014 Worldwide Developers Conference, where Apple promised it would see an "early 2015" release. The Photos for OS X app takes on Yosemite-style design elements, with an emphasis on flatness and translucency, and it integrates with both iCloud Photo Library and the Photos for iOS app.
Reviews of the Photos for OS X app
have suggested that while it's a suitable replacement for iPhoto, with speed improvements and better tools than were found in iPhoto, it lacks many power features that professional users have become accustomed to in its current incarnation, like plug-ins, a loupe, brushable adjustments, and custom metadata fields.
Along with the new Photos for OS X app, OS X 10.10.3 brings a
new emoji picker
that consolidates emoji into a single scrollable page with clear labels, new
diversified emoji
and emoji skin tone modifiers, additional flag emoji and updated emoji for the iPhone, iMac, and Apple Watch.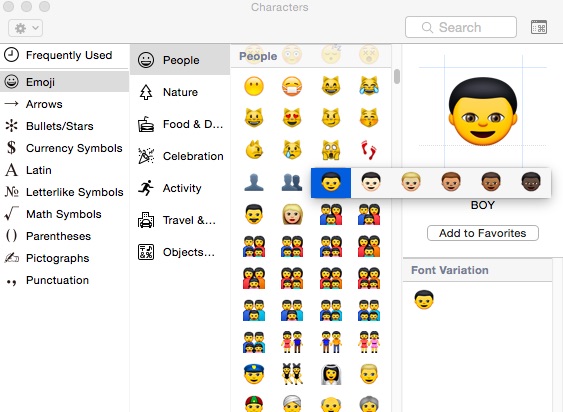 There's also support for
Google 2-step verification
when setting up accounts in System Preferences, doing away with the need for app specific passwords, and there are Force Touch APIs for developers, which will let them incorporate Force Touch gestures into their apps.
As noted by
MacRumors
reader Joe, the Memory section of the Activity Monitor app has been redesigned to make memory usage more clear to users. The App Memory, Wired Memory, and Compressed sections are now listed as part of "Memory Used" rather than listed separately.

The best cable modem (for most folks)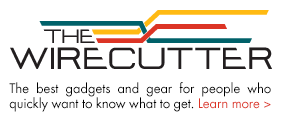 This post was done in partnership with The Wirecutter, a list of the best technology to buy. Read the full article below at TheWirecutter.com.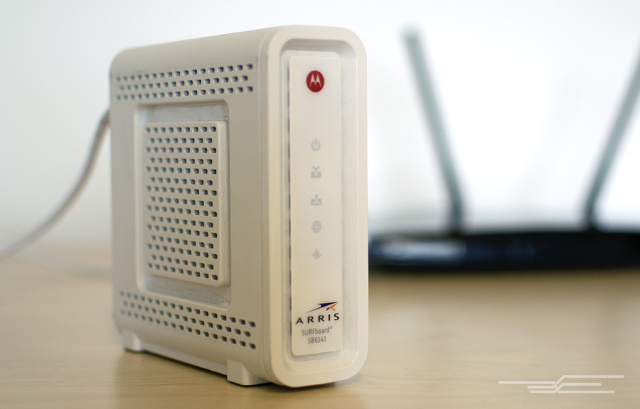 After researching 57 different cable modems, the $90 ARRIS / Motorola SurfBoard SB6141 DOCSIS 3.0 remains the cable modem we recommend for most people. If instead of renting from your ISP, you buy your own cable modem, you can get a better device and recoup the cost in as little as a year—and then start saving anywhere from $6-$10 each month, depending on your ISP's rental fees. Yes, you can probably find a slightly cheaper cable modem that only works with your ISP. We prefer our pick because its flexibility makes it a better long-term investment if you change service during the lifetime of the device. Unlike the competition, the SurfBoard is compatible with almost all of the fastest Internet plans from seven of the eight biggest cable Internet providers, including Charter, Comcast, and Time Warner Cable. You can move almost wherever you want and be assured that this buy-once, use-for-awhile device will still work. And you get the flexibility to switch providers if there's a better deal in your area.
New Apple TV with App Store would enter Apple into $35 billion home gaming market
By
Monday, March 23, 2015, 08:35 am PT (11:35 am ET)
With software sales for traditional game consoles and PCs projected to reach $35 billion this year, one analyst believes a new Apple TV with a dedicated App Store could have a noticeable impact on the company's bottom line.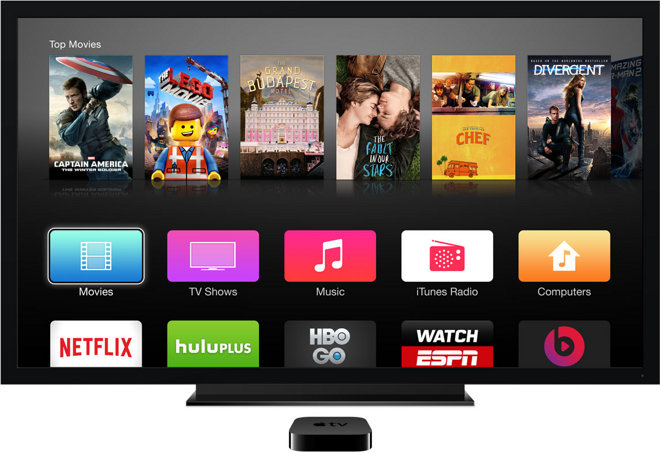 Rod Hall of J.P. Morgan is bullish on the prospect of a new Apple TV model rumored to debut at Apple's annual Worldwide Developers Conference in June. In a research note to investors issued Monday, a copy of which was provided to AppleInsider, he noted the combined console and PC gaming market is expected to sell $35 billion worth of software this year.

For every 10 percent of share in this market that Apple could tap into, Hall believes it would add about 1.5 percent in additional earnings for Apple.
If it uses the same A8X chip as the iPad Air 2, a new Apple TV could be as powerful as a PlayStation 3 console, Rod Hall believes.
The analyst noted that the A8X chip found in the iPad Air 2 is capable of near PlayStation 3 quality graphics. If Apple were to use that processor to power a next-generation Apple TV, the company could make a formidable splash and compete with the likes of Sony, Microsoft and Nintendo in the longstanding console market.

Beyond games, Hall also believes that a new over-the-top subscription TV bundle would be yet another revenue and profit opportunity for Apple.

Word first surfaced last week that Apple is expected to unveil a new Apple TV, complete with App Store and Siri support, at WWDC. It was said that the device will use the same A8 chip series found in the iPhone 6 and iPhone 6 Plus, but it was not indicated whether it would be the upgraded "X" chip variant found in the iPad Air 2.

On its own, the A8 processor is powerful enough to output 4K-resolution video, which means it could be capable of supporting ultra-high-definition content. Service like YouTube and Netflix already offer some content in 4K resolution, while a number of 4K-capable TVs are on the market.

Much of the groundwork for a traditional console-style gaming experience has already been laid by Apple. For example, modern iPhones and iPads already feature support for third-party Bluetooth controllers, GameCenter social networking integration, and iCloud syncing of game saves.

Extending those capabilities to the Apple TV, and adding an App Store, would give developers the ability to create more traditional console-style games for the living room on Apple hardware.
Apple Watch, new MacBook unveiled; Apple joins forces with HBO Now
Last Updated Mar 9, 2015 2:20 PM EDT
The time has come to finally see the highly anticipated Apple Watch. Apple CEO Tim Cook unveiled the company's first entirely new product line in five years Monday at the Yerba Buena Center for the Arts Theater in San Francisco.
After talking about a number of other updates, Cook called Apple Watch "the most personal device we have ever created" and "the most advanced timepiece ever created."
Calling the new device a comprehensive health and fitness companion, Cook gave a brief summary of the health and fitness capabilities of Apple Watch, like tracking your movement throughout the day, giving you weekly reports and targets for next week, and reminding you when you've been sitting to long and ought to get up and move around.
A video featuring model and women's health advocate Christy Turlington Burns showed her talking about how Apple Watch fitness apps help her train for races like an upcoming marathon.
Developers have been creating thousands of new apps for the wearable, which is designed for quick bursts of use -- just a few seconds at a time.
Cook ran through some of the various ways Apple Watch can connect to social media, such as the Facebook app, and described how it can be used to keep track of news right when it happens.
VP of Technology Kevin Lynch, who has been overseeing the software on Apple Watch, demonstrated how you can press crown to start Siri and get readouts on the watch face. He also showed how to pay with Apple Pay on the watch, to a round of applause. He also answered a phone call from Bow Wow Meow on the watch on stage and ordered himself an Uber.
Apple Watch communicates with Wi-Fi as well as Bluetooth so when your phone is out of Bluetooth range you can still get calls and notifications on the watch.
But before unveiling the wearable, Cook made fans wait just a little longer as he took the stage and opened the event with a video of Apple's new store in China. "We've got a few more reasons for you to visit those stores today. And I'm going to start with Apple TV," he said.
He invited HBO CEO Richard Plepler to introduce HBO Now, the cable network's streaming service, which will launch exclusively with Apple TV.
Cook announced that the company is lowering the price of Apple TV to $69, from $99.
He also highlighted the success thus far of the mobile payment system Apple Pay, which he said has seen the number of locations accepting it triple in the three months since its launch. Cook touted the fact that Coca Cola plans to have 100,000 vending machines that take Apple Pay by the end of the year as a sign that the NFC payment system is "forever changing the way we pay for things."
Cook brought out Jeff Williams to talk about the new ResearchKit for medical research. The five few apps will launch immediately for breast cancer, diabetes, cardiovascular disease, asthma and Parkinson's, and starting next month the whole thing will launch -- and it will be open source, so it can be used on non-Apple devices.
Then onto the big guns: The MacBook.
"We challenged ourselves to reinvent the notebook -- and we did it," said Cook.
The new model -- powered by the 1.1 GHzIntel Core M -- weighs just two pounds. It's the lightest Mac ever, and the thinnest, 24 percent thinner than the MacBook Air.
Apple's head of marketing Phil Schiller said this makes "a huge difference."
It has a full sized keyboard that goes all the way to the edge of the all-metal body. Besides being larger, the keyboard is also thinner with larger, more stable keys for more accurate typing.
The 12-inch Retina display is "truly is the best display we've ever built onto a Mac," with 2,304 by 1,440 pixel resolution -- a total of nearly 3.3 million pixels. It will also consume 30 percent less energy.
The new "Force Touch" trackpad has force sensors to move beyond just touch-to-click and full click. The trackpad will respond differently to the force of your press, for instance fast-forwarding faster the harder you press while watching a video.
And fans will love this: The MacBook is now fan-less, making it much quieter.
The company says it will be able to deliver all-day battery life -- enough for 9 hours of wireless web surfing, or 10 hours of iTunes movie watching -- by creating contoured batteries to fit into the new slimmer body design. The contouring allows 35 percent more battery than the typical rectangular shape.
The new MacBook will begin to ship April 10. The 8GB model will start at $1299, and $1,599 for 512 GB.
MacBook Air will get faster processors and faster memory starting today. MacBook Pro will get the Force Touch trackpad and increased speeds, as well, including another hour of battery life, upping it to 10 hours. B
The main attraction at the event is expected to be the Apple Watch. First revealed in its prototype phase alongside the iPhone 6 and iPhone 6 Plus at Apple's September media event in Cupertino, Calif., the Apple Watch is the company's highly anticipated entrance into the wearables market. Leaks and rumors have fueled months of excitement for the smartwatch, which will go on sale in April.
It is also Apple's first foray into a new product market since it released the iPad in 2010. Then, the company sold an impressive sold 7.5 million tablets in the first six months. Reports have said that Apple ordered an initial run of between 5 and 6 million Apple Watches. That's more than the aggregate number of smartwatches shipped in all of 2014, which according to Strategy Analytics, totaled 4.6 million.
CNET reports that Strategy Analytics predicted Apple will ship 15.4 million Apple Watch units in 2015, giving the company 54.8 percent of the global smartwatch market and bumping Samsung to number two.
"Apple's bet is that 5 percent of Apple users that have iPhone will buy the watches," said CBS News business analyst Jill Schlesinger. "That would translate into 15 million people buying Apple Watches, or 55 percent of the smartwatch market."
Other industry analysts are less optimistic, with sales projections ranging from 8 to 10 million units in their fist nine months on the market.
Of the units Apple has reportedly ordered, half could be the aluminum Apple Watch Sport, which will start at $349.
"This is a higher price point than other smartwatches," Schlesinger noted."$300 is really what the market has; Apple is coming in at $349."
The primary style -- called simply Apple Watch -- has a stainless steel case and a ceramic back. The top-tier Apple Watch Edition incorporates 18-karat gold. Prices for the higher end models have been kept quiet.
They're all based on the same curved-edge rectangular-screen design. The face will come in two sizes -- 42mm and 38mm. There are also six different watchbands, including brightly colored rubberized sport bands, classic leather and metal mesh.
Apple Watch will work in tandem with iPhone 5, 5C, 6 and 6 Plus running iOS 8.
Apple to Build Data Command Center in Arizona
Apple Inc.AAPL +1.25% plans to invest $2 billion to build a data center in Arizona in the location where its failed sapphire manufacturing facility exists, the state announced Monday.
The company plans to employ 150 full-time Apple staff at the Mesa, Arizona, facility, which will serve as a command center for its global network of data centers. In addition to the investment for the data center, Apple plans to build a solar farm capable of producing 70-megawatts of energy to power the facility.
Apple's investment is expected to create up to 500 construction jobs as well, the state said.
Apple said it expects to start construction in 2016 after GT Advanced TechnologiesInc.GTATQ +1.35%, the company's sapphire manufacturing partner, clears out of the 1.3 million square foot site. The $2 billion investment is in addition to the $1 billion that Apple had earmarked to build scratch-resistant sapphire screens at the same location.
The investment comes a few months after GTAT filed for bankruptcy protection in October, citing problems with the Arizona facility. Shortly after its bankruptcy filing, GTAT said it planned to lay off more than 700 employees in Arizona.
In October 2013, Apple had agreed to build a sapphire factory in Mesa that GTAT was going to operate. At the time, Apple had said the new factory was going to create 2,000 jobs and move an important part of its supply chain to the U.S.
However, the project struggled to produce a consistent level of sapphire at the quality demanded by Apple. In the end, Apple did not use sapphire from the facility for its latest iPhones. After GTAT's bankruptcy, Apple has said it was seeking ways to preserve the jobs lost at the Mesa facility.
Arizona's governor said the state did not provide additional financial incentives to keep Apple in the state. For the original investment in 2013, Arizona provided $10 million to Apple to sweeten the deal for the company.
If The iPad Air And Original Mac Had A Child, It Might Look Like This
The Macintosh is over 30 years old.
In honor of how far the personal computer has come since then, Curved Labs designed a modern Macintosh that draws on the iPad Air.
We won't ever see this computer in the Apple Store, but it's still fun to look at.This computer would be hard to miss, thanks to its curved base and striking resemblance to the original Macintosh. It would have an 11-inch touchscreen in real life.
In this side-by-side shot, you can see how much computer design has evolved since the 1980s.
Curved's concept kept the glowing Apple logo that we've seen on so many iMacs and MacBooks.
The ventilation and fan is discretely hid behind the computer. This concept has a headphone jack, USB port, and lightning port, even though Apple is slowly doing away with those.
See the rest of the story at Business Insider
Cox unveils faster 'G1gablast' Internet service
Cox Communications has released pricing and a new brand name to market its residential gigabit Internet service available to customer homes later this month.
"G1gablast" is the new brand name for the Cox service that will offer speeds 100 times faster than the average speed available today.
"We are excited to deliver the choice of gigabit speeds to our customers," Cox Communications President Pat Esser said in a prepared statement. "Coupled with our 2,300 employees in the Valley and more than 20,000 nationwide, our latest investments and the deployment of the fastest speeds available are powering economic growth and development for businesses and residents of the communities we serve."
Home-based businesses will benefit from this new service as the need for speed increases.
The "G1gablast" service, with speeds as fast as 1 gigabit per second, will be available in Phoenix for $69.99 when combined with Cox's service bundles. The service also includes the latest high-speed Wi-Fi router, one terabyte of cloud storage, Cox Security Suite and Family Protection and 10 email boxes each with 15 gigabytes of storage.
"Starting today, trained teams of Cox sales representatives will be personally reaching out, door to door, into the neighborhoods that will be the first to have 1G speed available," said John Wolfe, senior vice president of the Cox Communications' southwest region in a prepared statement.
The gigabit service will be available first in parts of the Phoenix metro area, and will expand to Las Vegas, Omaha and new developments in Cox markets nationwide.
Businesses have been using Cox gigabit speeds for more than 10 years.
Hayley Ringle covers technology and startups for the Phoenix Business Journal.
OS X Yosemite Preview: 5 Features to Get Excited About
Apple iMacs and MacBooks are set to get a big upgrade in the coming months in the form of a new operating system. OS X Yosemite, the follow-up to OS X Mavericks, is a massive update to Apple's operating system that not only gives the software a new, more attractive design, but also adds a boatload of features.
The update, which will be available for free when it launches later this fall, also blurs some of the lines between Apple's desktop OS and its iOS mobile operating system — though not nearly as much as Microsoft's Windows 8, which can switch from a desktop-based to a tablet-friendly interface on the same computer.
You'll even be able to make phone calls from your Mac with your connected iPhone.
There are a lot of great additions to Yosemite, but a handful of the operating system's features stand out. These are the top five features of OS X Yosemite (so far):
1. Improved design.
Apple's mobile operating system, iOS 7, was a major departure from previous versions in terms of design. Apple is adopting some of these design cues into this new desktop operating system.
Icons in the dock at the bottom of the home screen have a leaner, less three-dimensional design, similar to those found in iOS 7. Even the Share button in Safari looks the same as iOS 7's Share button. The operating system also has a new, crisper typeface that's easier to read.
A big part of Yosemite's new design is its translucent window effect. The feature gives everything, from the Dock to Finder windows to Safari's command bar, a kind of frosted-glass look that's somewhat reminiscent of the Aero design found in Windows Vista and Windows 7.
2. Notification Center.
The Notification Center in the current version of the OS, Mavericks, doesn't offer much in the way of functionality beyond providing you with recent message and iTunes updates. But that's all changing with OS X Yosemite and its new Today view.
Accessible through the Notification Center, Today provides you with customizable widgets including a summary of today's and tomorrow's events, current weather conditions, your calendar, stocks, and the ability to post to social networks.
A few of Today's features were previously available in OS X Mavericks' dashboard, but Apple brought them over to Today to make them more easily accessible. And if Today looks familiar, it's because it's a dead ringer for iOS's Notification Center.
Once Yosemite is available for download, Apple says, more Today view widgets will be available, too, further improving the usefulness of the Notification Center.
3. Spotlight search.
OS X's Spotlight search also gets a considerable upgrade with Yosemite. In previous versions of OS X, Spotlight was capable of performing only local searches of your computer. With Yosemite, however, Spotlight can search not only your Mac, but the Web as well.
If, for example, you search for a movie like Guardians of the Galaxy, a Spotlight search will provide you with showtimes for the movie at nearby theaters, a plot summary, trailers, the cast and crew, and even its score on Rotten Tomatoes.
Search for a contact's name, and Spotlight will automatically populate with the person's information, including her phone number and email address.
Want a bite to eat? Type in your favorite food, and Spotlight will pull up the names and locations of nearby restaurants. You can also look for things like famous public figures: Spotlight will pull up a Wikipedia entry with information on them.
Microsoft's Windows 8.1 offers a similar feature called Smart Search. It looks like Yosemite's version will be easier to use.
4. iCloud Drive.
Apple's cloud storage service, iCloud has long taken a backseat to the likes of Dropbox and Google Drive. They are easy to use and make sharing a snap, too. With Yosemite, though, iCloud may become your cloud drive of choice. That's because Apple is finally treating iCloud like a normal storage drive.
You can now access your iCloud Drive through OS X's Finder, just like you work with your local drive. You can even organize the drive any way you want and create new subfolders that are accessible through other iCloud Drive-compatible devices. So you can save your photos, videos, and any other files on your MacBook and open them on your iMac at the office.
5. Mail.
OS X's Mail has gotten some serious enhancements with Yosemite, too. The app's new Markup tool lets you annotate and edit images and text within Mail without forcing you to open a new program. You can, for example, add highlights and shapes to photos and even sign documents using your MacBook's touchpad.
That's not all, though. Mail also makes it easier to send large files with its new Mail Drop feature. Mail Drop works by making your sent files accessible to your recipients via their iCloud accounts. If they don't use iCloud, then Mail Drop will send them a link where they can download the sent files.
It's a simple addition but one that will likely prove useful to people sending groups of images or videos.
Bonus feature we're really waiting for: iOS 8 continuity
One of the biggest draws of OS X Yosemite will be its interoperability with Apple's upcoming mobile operating system, iOS 8. Rather than existing in two separate worlds, the two operating systems will be able to talk to each other, letting you do things like make and receive phone calls, and send texts, from your Mac through your iPhone.
Working on a Pages document on your Mac? If your iPad or iPhone is nearby, you can pick up where you left off on your mobile device. You can do the same thing with Mail, Safari, Messages, Maps, and other OS X apps.
Using your iPhone as a WiFi hotspot will also be easier with Yosemite. If your wireless data plan lets you use your iPhone as a hotspot, then your Mac will automatically detect that your handset is nearby and treat it like any other hotspot.
OS X Yosemite will be out later this fall as a free upgrade. It will run on Most Macs and MacBooks dating as far back as 2009 and some iMacs from 2007. Check Apple's website for further compatibility details.
Email Daniel at ; follow him on Twitter at @DanielHowley or on Google+ here.
iOS 8 additions promise to streamline how you communicate and share

iOS users will have plenty of new things to familiarize themselves with this fall. That's when iOS 8 arrives, and Apple's updated mobile operating system promises a slew of new features and enhancements that aim to help you communicate and share more easily.
While most of us will have to wait until the fall to really explore the many changes announced Monday during the Worldwide Developers Conference keynote, app makers and developers will get an early crack at iOS 8, with a pre-release version available now for anyone with a developer account. Here are the features we're most excited to see: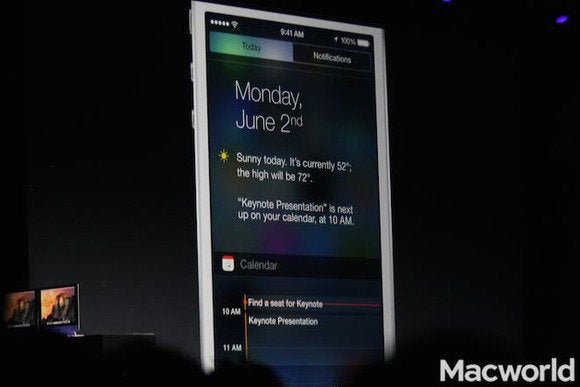 Notifications: Perhaps most notably, Apple introduced new interactive notifications that allow you to respond to alerts without having to leave the app you're in. Get a calendar invitation, and you can respond, all while continuing to compose that email or—more likely—play that mobile game. You can also interact with notifications from your mobile device's lock screen, swiping on a notification to deal with it.
iOS 7 added the ability to double tap the home button to bring up a multitasking menu. iOS 8 adds most frequent contacts across the top of the multitasking menu, allowing you to quickly call, text, or FaceTime friends, family, or other VIPs.
Mail: Mail will get several new tools in iOS 8, starting with the ability to add an event to your calendar directly from within an email message. Mail now incorporates several new gestures into the interface, letting you swipe to flag, delete, or mark an email as unread. Dragging all the way across on a message will delete it from your mailbox.
Perhaps one of the coolest feature in iOS 8's Mail will be the ability to minimize drafts by swiping down. With this feature in place, you'll be able to more easily grab information from one message and put it in another.
Safari: The built-in browser for iOS is in line for a few updates as well. Safari's quick-glance tab view from OS X comes to the iPad version of the browser as will the just-announced sidebar slated for OS X Yosemite, which Apple also previewed on Monday.
Search: OS X's Yosemite update also inspires some new spotlight features in iOS 8. Searching for "Yosemite," for example, brings up the Wikipedia page for Yosemite, news, and all other kinds of relevant information.
Keyboard: A new keyboard in iOS 8 will use predictive typing to speed up input. As you type out words with the new keyboard, recommendations for the next word based on common phrases will pop up; you can then add those to your message. We've seen this a bit with the keyboard in theSwiftKey Note app, but Apple's solution goes a bit further to learn your personal voice (all the while maintaining your privacy, Apple executives were quick to add during Monday's keynote.)
Continuity features: Apple wants better integration between all those devices you own, so iOS 8 is going to let you pick up on your iPad what you were doing on your iPhone. That includes taking phone calls on your tablet by more easily creating a portable hotspot for sharing your phone's connection.
Messaging: Enhancements in the Messages app in iOS 8 focus on group messaging; you can add and remove people within a thread. Other enhancements let you name your thread for easily tracking or turning on a Do Not Disturb setting for a particular thread. You can share your location with people in a conversation;if they've shared with you, you can see their location on a map.
A useful addition to Messages is a Tap to Talk feature that sends audio or video messages to contacts—and yes, it works with selfies, too. Best of all, you can listen to and interact with these to messages right from your lock screen just by putting your phone up to your ear.
iCloud Drive: iCloud Drive promises a better way to work across applications in iOS 8. For example, if you're working in an app such as Sketchbook, you can open up a document from another application and edit them in that app.
HealthKit: Craig Federighi, Apple's senior vice president of software engineering, lamented how different health wearables are unable to talk to each other and share the information they gather. iOS 8 looks to address that problem with HealthKit, an attempt to take health stats and put it in a central repository so you can manage it all from one app. Partnerships with the Mayo Clinic and Epic Systems (who provide software for many major hospitals and healthcare organizations) will make it easier for iPhone users to share key health statistics with their doctors, in order to better manage their health between checkups.
Family Sharing: iOS 8 introduces better management features to let family members easily share photos, location, reminders, and many other pieces of information with each other. The chief benefit here: You're finally going to get to share music, movies, and TV shows you've bought with other family members. You can hook in up to six devices. Parents in particular will appreciate new notifications that alert you when your kids try to make a purchase.
Photos With iOS 8, photos will be integrated with iCloud so that every photo you take will be available on all your iOS and OS X devices. To help you sort through all the photos in iCloud, you can search by location, time, and albums you've set up. And there are smart editing controls that help you quickly edit and crop photos from your device.
Siri. Siri also gets some enhancements in iOS 8. Saying "Hey, Siri" will now let you interact with Siri in your car so you don't have to touch your phone while driving. (OK Google, that feature may sound pretty familiar to you.) Siri will also add Shazam integration to help identify the song that's currently playing on the radio; you can buy that song using voice commands from Siri. Apple's digital assistant also gains streaming voice recognition and 22 new dictation languages in iOS 8.
Cox Communications plans 1 gigabit speed for Phoenix Internet customers
Cox Communications is upping the ante in the battle for broadband supremacy, bringing 1 gigabit Internet speeds to Phoenix and going head to head with Google Inc.
The Atlanta-based company, which is the major cable and Internet provider in Phoenix, announced the plan this morning to put in the gigabit service for all new construction. Phoenix, along with Las Vegas and Omaha, also will see existing customers get the speed bump by the end of 2016.
"We are excited about our road map to offer gigabit speeds to all of our residential customers," saidPat Esser, Cox Communications president.
Company officials said it does not yet have prices for how much it will cost for the 1 gigabit service.
The plan was unveiled at Mark Taylor Residential's San Travesia apartments in Scottsdale, where Cox will first offer the product as well as Cox Metro wi-fi.
"Offering the fastest Internet speeds and wi-fi access where our residents live and play, makes it essential to connecting our tech savvy residents," said Dale Phillips, president of Mark-Taylor Residential.
The Metro service will launch later in 2014 and give Cox customers access to more than 250,000 hotspots around the country.
While current customers will have to wait more than two years for the increased speeds, Cox plans to double its existing speeds by the end of the year. Those with the preferred tier will see speeds rise to 50 megabits per second, and those on the premier speed will see speeds of 100 megabits per second. Company officials said there would be no price increase this year when Internet speeds are increased.
The move is a clear shot at Google, which has listed Phoenix as one of its finalists to install its Google Fiber network. That network, however, would be limited to Phoenix, Scottsdale and Tempe.
Google's move is still in the evaluation stages, but the city of Phoenix has given the company permission to use city land to place network hubs to help build the network.
Patrick O'Grady is managing editor of the Phoenix Business Journal.
Want to have the Macswest calendar appear in your iCal calendar? Do the following.
Open iCal on your Mac, Click on Calendar then Subscribe. A window will open, copy and paste the following URL then click Subscribe. That's all there is to it.
http://www.google.com/calendar/ical/macswestscw%40gmail.com/public/basic.ics